30 Jul

Tommy's Cuisine Sold to Creole Cuisine Restaurant Concepts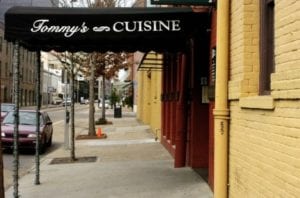 By Todd A. Price, NOLA.com | The Times-Picayune
In recent years, the fine dining division of Creole Cuisine Restaurant Concepts has taken over and upgraded a number of well-loved New Orleans restaurants: Broussard's, The Bombay Club and the former location of Houston's in Metairie. Last week, Creole Cuisine bought another classic restaurant: Tommy's Cuisine in the Warehouse District.
The company purchased Tommy's Restaurant Group, which includes the flagship Tommy's Cuisine, Tommy's Wine Bar and Tomas Bistro, along with the buildings that house the main restaurant and the wine bar. Creole Cuisine also acquired the right to the buy the property that houses Tomas Bistro and the banquet facility.
The sale closed last Tuesday (July 12). Terms of the deal were not disclosed.
Tommy Andrade of Tommy's Cuisine on Tchoupitoulas Street stands outside Tommy's Wine Bar in 2006. (Photo by Chris Granger)
Tommy Andrade co-founded Irene's Cuisine in the French Quarter with Irene DiPietro.
In 2003, he left to open Tommy's Cuisine in the Warehouse District. His restaurant married the hearty Italian cooking of Irene's to the classic Creole dishes that you might find at Galatoire's. Tommy's also brought an old-school French Quarter attitude to the Warehouse District.
Tommy Andrade will stay on to operate the restaurant along with all his current staff. In fact, he lives in a condo above the banquet facility.
"He started it. He created it. He's a very important piece in the restaurant," said Creole Cuisine CEO Marv Ammari.
No major changes are planned for Tommy's Cuisine other than a little extra polish.
"We are looking only to enhance. We're coming in to help support Tommy's restaurant and support him," Ammari said.
Creole Cuisine does plan to upgrade the decor at Tommy's Wine Bar.
Creole Cuisine sees the most opportunity for growth in 13,000-square-foot banquet facility attached to Tomas Bistro, which even includes a bridal condo. With its larger sales force and experience booking banquet and events in the French Quarter, Creole Cuisine believes it can grow the private events business.
Creole Cuisine began as a group of daiquiri shops in the French Quarter. In recent years, it has moved into fine dining. The company also has extensive real estate holdings.
The company is in the midst of a major expansion in all its divisions.
The 2016 Top Workplace among large employers has five daiquiri cafés, eight casual restaurants and five fine dining restaurants with more on the way.
Big Easy Cafe, a family-friendly daiquiri cafe, recently launched in Metairie. More locations are planned. A new casual concept is in the works at 301 Chartres St. And the group plans to open additional locations of Bayou Burger, its Bourbon Street restaurant and sports bar.
In the fine dining division, Creole Cuisine recently purchased the former Maurepas Foods space at 3200 Burgundy St. They plan to find a young chef to create a new restaurant in that Bywater location.
When Michael Doyle opened Maurepas Foods in 2012, it was the first contemporary Bywater restaurant that could draw customers from Uptown and beyond. He closed the restaurant in October 2015.
An upscale bistro is in the works at 301 Royal St. And plans are also underway to expand Boulevard American Bistro, which took over the Metairie location of Houston's, to New Orleans and possibly Baton Rouge or the North Shore.
Tommy's Cuisine: 746 Tchoupitoulas St., New Orleans, 504.581.1103